Stefaan G. Verhulst, Anthony Zacharzewski and Christian Hudson at Data & Policy: "Today, The GovLab and The Democratic Society published their report, "Governing the Environment-Related Data Space", written by Jörn Fritzenkötter, Laura Hohoff, Paola Pierri, Stefaan G. Verhulst, Andrew Young, and Anthony Zacharzewski . The report captures the findings of their joint research centered on the responsible and effective reuse of environment-related data to achieve greater social and environmental impact.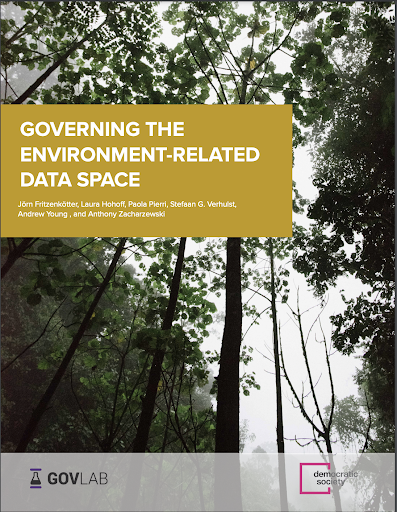 Environment-related data (ERD) encompasses numerous kinds of data across a wide range of sectors. It can best be defined as data related to any element of the Driver-Pressure-State-Impact-Response (DPSIR) Framework. If leveraged effectively, this wealth of data could help society establish a sustainable economy, take action against climate change, and support environmental justice — as recognized recently by French President Emmanuel Macron and UN Secretary General's Special Envoy for Climate Ambition and Solutions Michael R. Bloomberg when establishing the Climate Data Steering Committee.
While several actors are working to improve access to, as well as promote the (re)use of, ERD data, two key challenges that hamper progress on this front are data asymmetries and data enclosures. Data asymmetries occur due to the ever-increasing amounts of ERD scattered across diverse actors, with larger and more powerful stakeholders often maintaining unequal access. Asymmetries lead to problems with accessibility and findability (data enclosures), leading to limited sharing and collaboration, and stunting the ability to use data and maximize its potential to address public ills.
The risks and costs of data enclosure and data asymmetries are high. Information bottlenecks cause resources to be misallocated, slow scientific progress, and limit our understanding of the environment.
A fit-for-purpose governance framework could offer a solution to these barriers by creating space for more systematic, sustainable, and responsible data sharing and collaboration. Better data sharing can in turn ease information flows, mitigate asymmetries, and minimize data enclosures.
And there are some clear criteria for an effective governance framework…(More)"