Article by Stefaan G. Verhulst, Andrew Young, and Andrew J. Zahuranec: "When made accessible and re-used responsibly, privately held data has the potential to generate enormous public value. Whether it's enabling better science, supporting evidence-based government programs, or helping community groups to identify people who need help, data can be used to make better public interest decisions and improve people's lives.
Yet, for all the discussion of the societal value of having organizations provide access to their data, there's been little discussion of the business case on why to make data available for reuse. What motivates an organization to make its datasets accessible for societal purposes? How does doing so support their organizational goals? What's the return on investment of using organizational resources to make data available to others?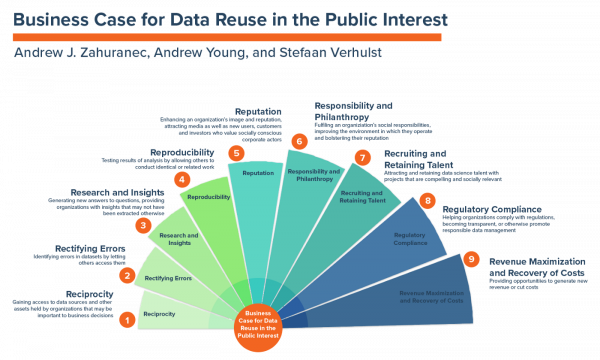 The Open Data Policy Lab addresses these questions with its "9R Framework," a method for describing and identifying the business case for data reuse for the public good. The 9R Framework consists of nine motivations identified through several years of studying and establishing data collaboratives, categorized by different types of return on investment: license to operate, brand equity, or knowledge and insights. Considered together, these nine motivations add up to a model to help organizations understand the business value of making their data assets accessible….(More)".