Policy Lab (UK): "….Compared with quantitative data, ethnography creates different forms of data – what anthropologists call 'thick data'. Complex social problems benefit from insights beyond linear, standardised evidence and this is where thick data shows its worth. In Policy Lab we have generated ethnographic films and analysis to sit alongside quantitative data, helping policy-makers to build a rich picture of current circumstances. 
On the other hand, much has been written about big data – data generated through digital interactions – whether it be traditional ledgers and spreadsheets or emerging use of artificial intelligence and the internet of things. The ever-growing zettabytes of data can reveal a lot, providing a (sometimes real time) digital trail capturing and aggregating our individual choices, preferences, behaviours and actions.
Much hyped, this quantitative data has great potential to inform future policy, but must be handled ethically, and also requires careful preparation and analysis to avoid biases and false assumptions creeping in. Three issues we have seen in our projects relate to:
partial data, for example not having data on people who are not digitally active, biasing the sample
the time-consuming challenge of cleaning up data, in a political context where time is often of the essence
the lack of data interoperability, where different localities/organisations capture different metrics
Through a number of Policy Lab projects we have used big data to see the big picture before then using thick data to zoom in to the detail of people's lived experience. Whereas big data can give us cumulative evidence at a macro, often systemic level, thick data provides insights at an individual or group level. We have found the blending of 'big data' and 'thick data' – to be the sweet spot.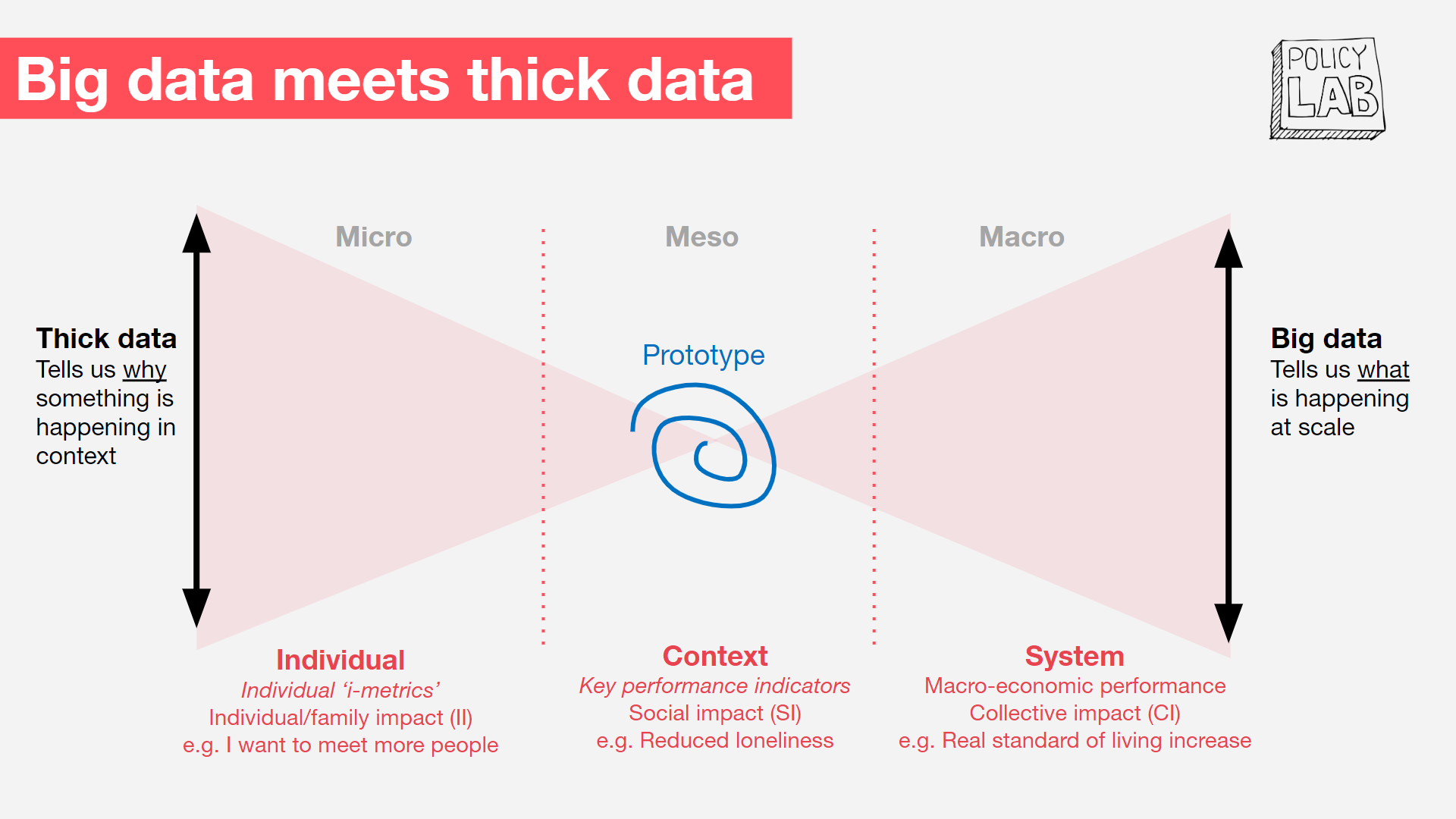 Policy Lab's work develops data and insights into ideas for potential policy intervention which we can start to test as prototypes with real people. These operate at the 'meso' level (in the middle of the diagram above), informed by both the thick data from individual experiences and the big data at a population or national level. We have written a lot about prototyping for policy and are continuing to explore how you prototype a policy compared to say a digital service….(More)".