An investigation by The Markup: "…has found that lenders in 2019 were more likely to deny home loans to people of color than to White people with similar financial characteristics—even when we controlled for newly available financial factors that the mortgage industry for years has said would explain racial disparities in lending.
Holding 17 different factors steady in a complex statistical analysis of more than two million conventional mortgage applications for home purchases, we found that lenders were 40 percent more likely to turn down Latino applicants for loans, 50 percent more likely to deny Asian/Pacific Islander applicants, and 70 percent more likely to deny Native American applicants than similar White applicants. Lenders were 80 percent more likely to reject Black applicants than similar White applicants. These are national rates.
In every case, the prospective borrowers of color looked almost exactly the same on paper as the White applicants, except for their race.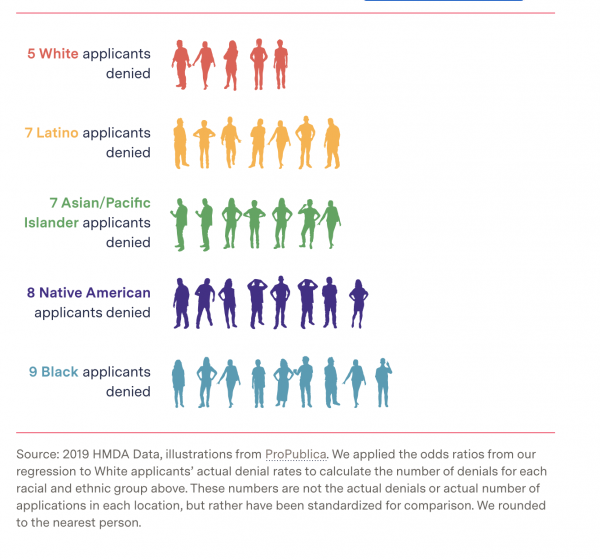 The industry had criticized previous similar analyses for not including financial factors they said would explain disparities in lending rates but were not public at the time: debts as a percentage of income, how much of the property's assessed worth the person is asking to borrow, and the applicant's credit score.
The first two are now public in the Home Mortgage Disclosure Act data. Including these financial data points in our analysis not only failed to eliminate racial disparities in loan denials, it highlighted new, devastating ones.
We found that lenders gave fewer loans to Black applicants than White applicants even when their incomes were high—$100,000 a year or more—and had the same debt ratios. In fact, high-earning Black applicants with less debt were rejected more often than high-earning White applicants who have more debt….(More)"