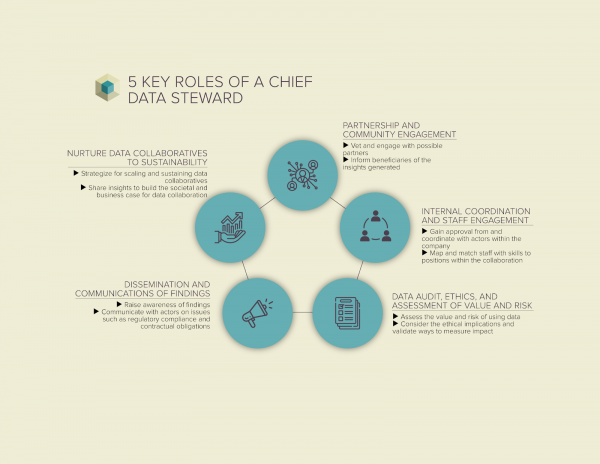 Stefaan G. Verhulst, Andrew Zahuranec, Andrew Young and Michelle Winowatan at Data & Policy: "As data grows increasingly prevalent in our economy, it is increasingly clear, too, that tremendous societal value can be derived from reusing and combining previously separate datasets. One avenue that holds particular promise are data collaboratives. Data collaboratives are a new form of partnership in which data (such as data owned by corporations) or data expertise is made accessible for external parties (such as academics or statistical offices) working in the public interest. By bringing together a wide range of inter-sectoral expertise to bear on the data, collaboration can result in new insights and innovations, and can help unlock the public good potential of previously siloed data or expertise.
Yet, not all data collaboratives are successful or go beyond pilots. Based on research and analysis of hundreds of data collaboratives, one factor seems to stand out as determinative of success above all others — whether there exist individuals or teams within data-holding organizations who are empowered to proactively initiate, facilitate and coordinate data collaboratives toward the public interest. We call these individuals and teams "data stewards."
They systematize the process of partnering, and help scale efforts when there are fledgling signs of success. Data stewards are essential for accelerating the re-use of data in the public interest by providing functional access, and more generally, to unlock the potential of our data age. Data stewards form an important — and new — link in the data value chain.
In its final report, the European Commission's High-Level Expert Group on Business-to-Government (B2G) Data Sharing also noted the need for data stewards to enable responsible, accountable data sharing for the public interest. In their report, they write:
"A key success factor in setting up sustainable and responsible B2G partnerships is the existence, within both public- and private-sector organisations, of individuals or teams that are empowered to proactively initiate, facilitate and coordinate B2G data sharing when necessary. As such, 'data stewards' should become a recognised function."
The report goes on further to acknowledge the need to scope, design, and establish a network or a community of practice around data stewardship.
Wanted: Data Stewards
A new position paper, released by The GovLab within the context of the UN Statistical Commission High-Level Forum on Official Statistics which focused on "Data stewardship — a solution for official statistics' predicament?" seeks to begin that work. The paper, titled "Wanted: Data Stewards: (Re-)Defining The Roles and Responsibilities of Data Stewards for an Age of Data Collaboration" tackles questions regarding the profile and potential of data stewards. It aims to provide an operational roadmap to support the implementation (or expansion) of data stewardship functions in public- and private-sector entities; and to start building a community of expertise.
Moreover, it addresses the tendency to conflate the roles of data stewards with those of individuals or groups who might better be described as chief privacy, chief data or chief security officers. This slippage is perhaps understandable, we need to redefine the role that is somewhat broader. While data management, privacy and security are key components of trusted and effective data collaboratives, the real goal is to re-use data for broader social goals (while preventing any potential harms that may result from sharing).
In particular the position paper — which captures lived experience of numerous data stewards- seeks to provide more clarity on how data stewards can accomplish these duties by:
Defining the responsibilities of a data steward; and
Identifying the roles which a data steward must fill to achieve these responsibilities…(More)".