Pew Research Center: "A four-nation Pew Research Center survey conducted in November and December of 2020 finds that roughly two-thirds of adults in France and the U.S., as well as about half in the United Kingdom, believe their political system needs major changes or needs to be completely reformed. Calls for significant reform are less common in Germany, where about four-in-ten express this view….
In all four countries, there is considerable interest in political reforms that would potentially allow ordinary citizens to have more power over policymaking. Citizen assemblies, or forums where citizens chosen at random debate issues of national importance and make recommendations about what should be done, are overwhelmingly popular. Around three-quarters or more in each country say it is very or somewhat important for the national government to create citizen assemblies. About four-in-ten say it's very important. Such processes are in use nationally in France and the UK to debate climate change policy, and they have become increasingly common in nations around the world in recent years.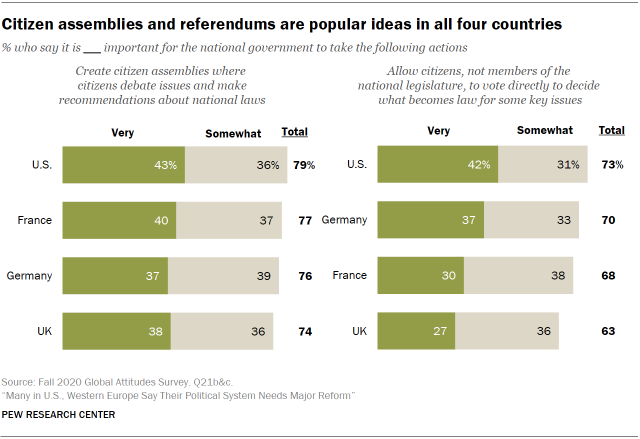 Citizen assemblies are popular across the ideological spectrum but are especially so among people who place themselves on the political left.1 Those who think their political system needs significant reform are also particularly likely to say it is important to create citizen assemblies.
There are also high levels of support for allowing citizens to vote directly to decide what becomes law for some key issues. About seven-in-ten in the U.S., Germany and France say it is important, in line with previous findings about support for direct democracy. In the UK, where crucial issues such as Scottish independence and Brexit were decided by referendum, support is somewhat lower – 63% say it is important for the government to use referendums to decide some key issues, and just 27% rate this as very important.
These are among the findings of a new Pew Research Center survey conducted from Nov. 10 to Dec. 23, 2020, among 4,069 adults in the France, Germany, the UK and the U.S. This report also includes findings from 26 focus groups conducted in 2019 in the U.S. and UK….(More)".