Report by Hannah Chafetz, Andrew J. Zahuranec, Sara Marcucci, Behruz Davletov, and Stefaan Verhulst: "As the last two years of the COVID-19 pandemic demonstrate, pandemics pose major challenges on all levels–with cataclysmic effects on society. 
Decision-makers from around the world have sought to mitigate the consequences of COVID-19 through the use of data, including data from non-traditional sources such as social media, wastewater, and credit card and telecommunications companies. However, there has been little research into how non-traditional data initiatives were designed or what impacts they had on COVID-19 responses.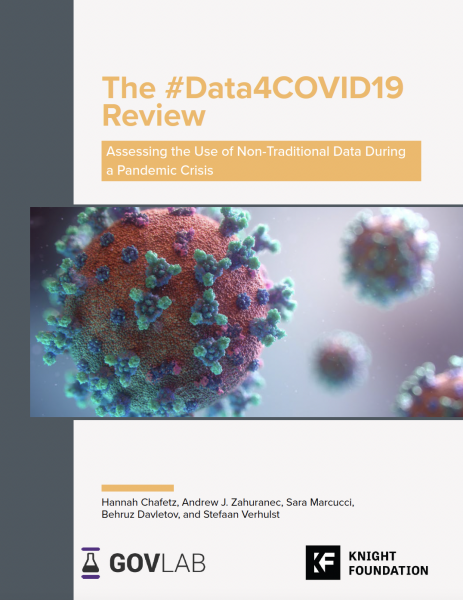 Over the last eight months, The GovLab, with the support of The Knight Foundation, has sought to fill this gap by conducting a study about how non-traditional data (NTD) sources have been used during COVID-19.
On October 31st, The GovLab published the report: "The COVID-19 Review: Assessing the Use of Non-Traditional Data During a Pandemic Crisis." The report details how decision makers around the world have used non-traditional sources through a series of briefings intended for a generalist audience.
The briefings describe and assess how non-traditional data initiatives were designed, planned, and implemented, as well as the project results.
Findings
The briefings uncovered several findings about why, where, when, and how NTD was used during COVID-19, including that:
Officials increasingly called for the use of NTD to answer questions where and when traditional data such as surveys and case data were not sufficient or could not be leveraged. However, the collection and use of traditional data was often needed to validate insights.
NTD sources were primarily used to understand populations' health, mobility (or physical movements), economic activity, and sentiment of the pandemic. In comparison with previous dynamic crises, COVID-19 was a watershed moment in terms of access to and re-use of non-traditional data in those four areas.
The majority of NTD initiatives were fragmented and uncoordinated, reflecting the larger fragmented COVID-19 response. Many projects were focused on responding to COVID-19 after outbreaks occurred. This pattern reflected an overall lack of preparedness for the pandemic and need for the rapid development of initiatives to address its consequences.
NTD initiatives frequently took the form of cross-sectoral data partnerships or collaborations developed to respond to specific needs. Many institutions did not have the systems and infrastructure in place for these collaborations to be sustainable.
Many of the NTD initiatives involving granular, personal data were implemented without the necessary social license to do so–leading to public concerns about ethics and hindering public trust in non-traditional data.
Stefaan Verhulst, Co-Founder and Chief R&D of The GovLab explains: "The use of NTD offers growing potential during crisis situations. When managed responsibly, NTD use can help us understand the current state of the crisis, forecast how it will progress, and respond to different aspects of it in real-time."…(More)".