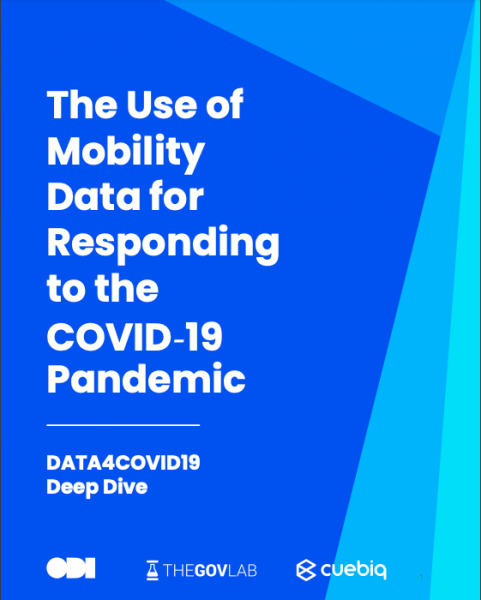 New Report, Repository and set of Case Studies commissioned by the Open Data Institute: "…The GovLab and Cuebiq firstly assembled a repository of mobility data collaboratives related to Covid-19. They then selected five of these to analyse further, and produced case studies on each of the collaboratives (which you can find below in the 'Key outputs' section).
After analysing these initiatives, Cuebiq and The GovLab then developed a synthesis report, which contains sections focused on:
Mobility data – what it is and how it can be used
Current practice – insights from five case studies
Prescriptive analysis – recommendations for the future
Findings and recommendations
Based on this analysis, the authors of the report recommend nine actions which have the potential to enable more effective, sustainable and responsible re-use of mobility data through data collaboration to support decision making regarding pandemic prevention, monitoring, and response:
Developing and clarifying governance framework to enable the trusted, transparent, and accountable reuse of privately held data in the public interest under a clear regulatory framework
Building capacity of organisations in the public and private sector to reuse and act on data through investments in training, education, and reskilling of relevant authorities; especially driving support for institutions in the Global South
Establishing data stewards in organisations who can coordinate and collaborate with counterparts on using data in the public's interest and acting on it.
Establishing dedicated and sustainable CSR (Corporate Social Responsibility) programs on data in organisations to coordinate and collaborate with counterparts on using and acting upon data in the public's interest.
Building a network of data stewards to coordinate and streamline efforts while promoting greater transparency; as well as exchange best practices and lessons learned.
Engaging citizens about how their data is being used so clearly articulate how they want their data to be responsibly used, shared, and protected.
Promoting technological innovation through collaboration between funders (eg governments and foundations) and researchers (eg data scientists) to develop and deploy useful, privacy-preserving technologies.
Unlocking funds from a variety of sources to ensure projects are sustainable and can operate long term.
Increase research and spur evidence gathering by publishing easily accessible research and creating dedicated centres to develop best practices.
This research begins to demonstrate the value that a handful of new data-sharing initiatives have had in the ongoing response to Covid-19. The pandemic isn't yet over, and we will need to continue to assess and evaluate how data has been shared – both successfully and unsuccessfully – and who has benefited or been harmed in the process. More research is needed to highlight the lessons from this emergency that can be applied to future crises….(More)".