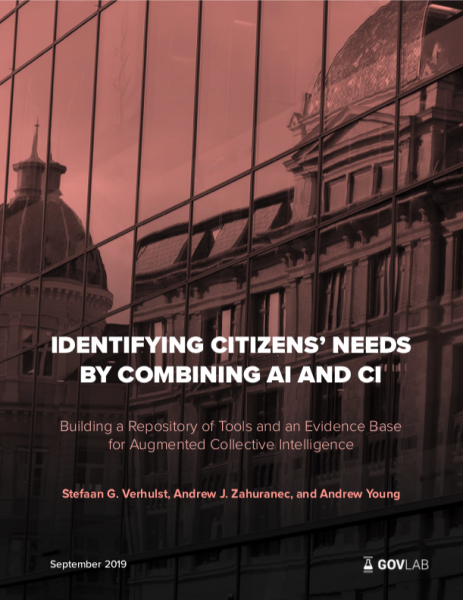 Report by Andrew Zahuranec, Andrew Young and Stefaan G. Verhulst: "Around the world, public leaders are seeking new ways to better understand the needs of their citizens, and subsequently improve governance, and how we solve public problems. The approaches proposed toward changing public engagement tend to focus on leveraging two innovations. The first involves artificial intelligence (AI), which offers unprecedented abilities to quickly process vast quantities of data to deepen insights into public needs. The second is collective intelligence (CI), which provides means for tapping into the "wisdom of the crowd." Both have strengths and weaknesses, but little is known on how the combination of both could address their weaknesses while radically transform how we meet public demands for more responsive governance.
Today, The GovLab is releasing a new report, Identifiying Citizens' Needs By Combining AI and CI, which seeks to identify and assess how institutions might responsibly experiment in how they engage with citizens by leveraging AI and CI together.
The report, authored by Stefaan G. Verhulst, Andrew J. Zahuranec, and Andrew Young, builds upon an initial examination of the intersection of AI and CI conducted in the context of the MacArthur Foundation Research Network on Opening Governance. …
The report features five in-depth case studies and an overview of eight additional examples from around the world on how AI and CI together can help to:
Anticipate citizens' needs and expectations through cognitive insights and process automation and pre-empt problems through improved forecasting and anticipation;
Analyze large volumes of citizen data and feedback, such as identifying patterns in complaints;
Allow public officials to create highly personalized campaigns and services; or
Empower government service representatives to deliver relevant actions….(More)".