Paper (and site) by Stefaan G. Verhulst, Andrew Young, Andrew J. Zahuranec, Susan Ariel Aaronson, Ania Calderon, and Matt Gee on "How To Accelerate the Re-Use of Data for Public Interest Purposes While Ensuring Data Rights and Community Flourishing": "The paper begins with a description of earlier waves of open data. Emerging from freedom of information laws adopted over the last half century, the First Wave of Open Data brought about newfound transparency, albeit one only available on request to an audience largely composed of journalists, lawyers, and activists. 
The Second Wave of Open Data, seeking to go beyond access to public records and inspired by the open source movement, called upon national governments to make their data open by default. Yet, this approach too had its limitations, leaving many data silos at the subnational level and in the private sector untouched..
The Third Wave of Open Data seeks to build on earlier successes and take into account lessons learned to help open data realize its transformative potential. Incorporating insights from various data experts, the paper describes the emergence of a Third Wave driven by the following goals:
Publishing with Purpose by matching the supply of data with the demand for it, providing assets that match public interests;
Fostering Partnerships and Data Collaboration by forging relationships with community-based organizations, NGOs, small businesses, local governments, and others who understand how data can be translated into meaningful real-world action;
Advancing Open Data at the Subnational Level by providing resources to cities, municipalities, states, and provinces to address the lack of subnational information in many regions.
Prioritizing Data Responsibility and Data Rights by understanding the risks of using (and not using) data to promote and preserve the public's general welfare.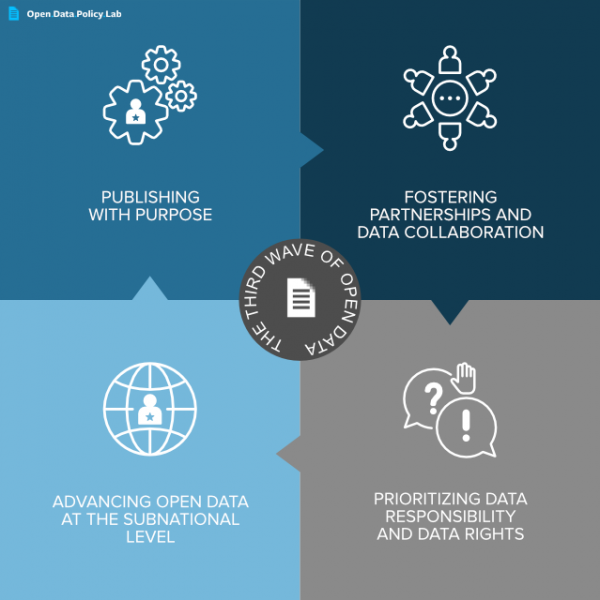 Riding the Wave
Achieving these goals will not be an easy task and will require investments and interventions across the data ecosystem. The paper highlights eight actions that decision and policy makers can take to foster more equitable, impactful benefits… (More) (PDF) "